The "Many Different Voices" project is a 3-in-1 online teamwork, training and competition project, to give school students a chance to be part of the real-life redesign of Lambeth roads.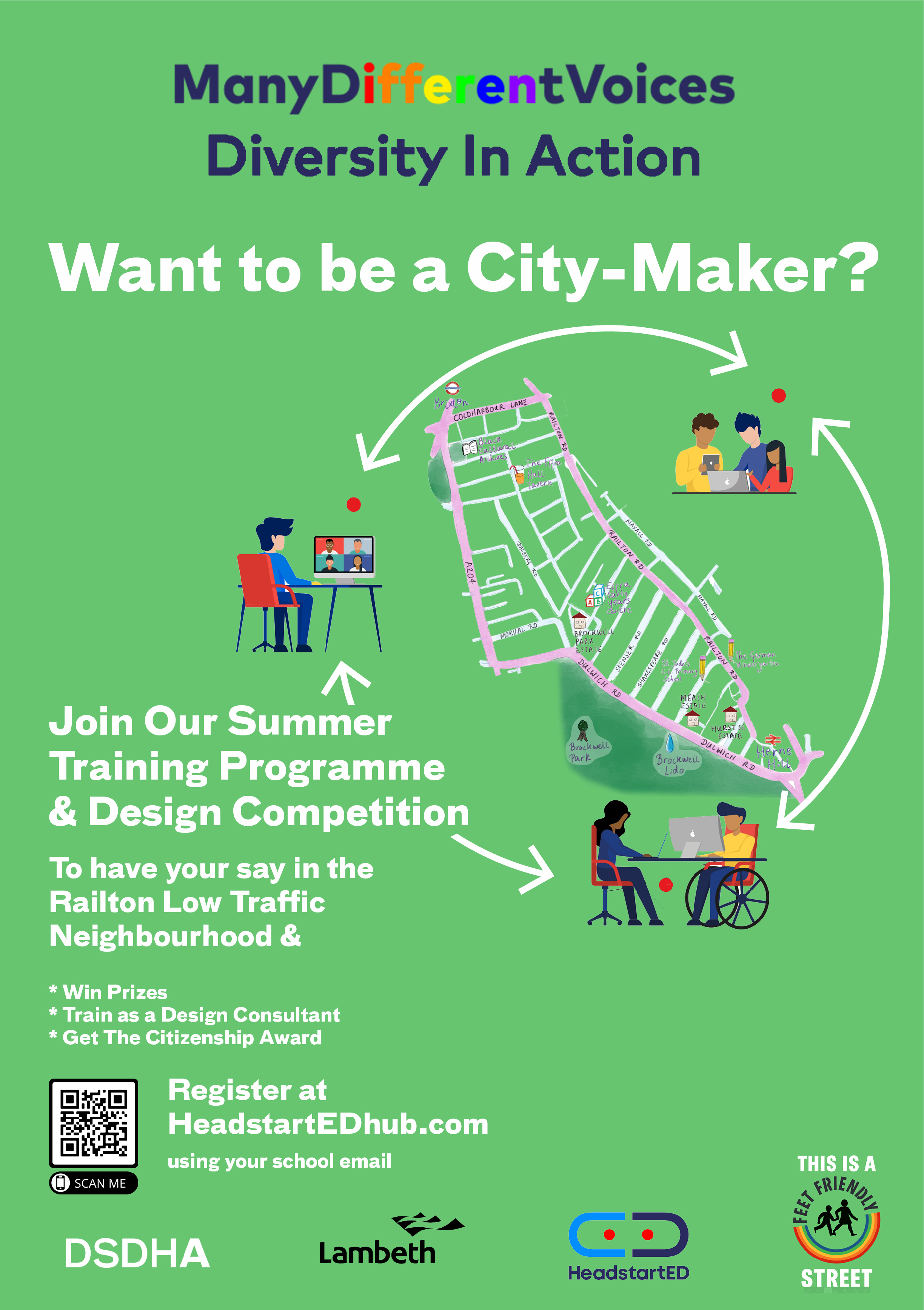 Lambeth Council's redesigned roads are part of our safety response to Covid 19. The council has commissioned HeadstartED and DSDHA to run the exciting project which will see school students work on an online project to design improvements to street space in Railton, one of our new Low Traffic Neighbourhoods (LTN.)
Engage, change, and improve our community
It's your chance to stand out as resilient and resourceful this summer.

There'll be prizes for excellence in analysis, creativity, presentation and teamwork as well as an overall design winner. Designers of the chosen ideas will see them become reality on Brixton streets.

Competition winners will publicly present their idea to a panel of influencers and use Minecraft to test and perfect it.

HeadstartED will register everyone who completes the training as eligible for paid freelance consultancy work. Lambeth will provide "Wide Awake" Citizenship awards.
Many Different Voices (MDV)
The "Many Different Voices" project is a 3-in-1 (online competition, collaboration and training programme) led by HeadstartED and DSDHA. It gets different voices collaborating on a many-sided issue. They'll create diverse teams to work together.
The design principles
Your team's street design ideas will answer these questions:
Does your street make people feel like visiting the local area while social distancing. Who's there? schoolchildren, families, etc? Is your design attractive to both walkers and cyclists?

Think about different people's experience of a street. Could age, language, gender, ethnicity, disability make a difference?

Can your design improve road safety and help people in getting healthier? Does it feel good any time of day or year?

Street design costs money through taxes, through funding in return for property development. Could you creatively adapt what's already there or use local/recycled materials to get value for money and clearly deliver benefits to local people?
Teams will have to agree a balance between different ideas, so keep a record of the thought processes going into your design
How to apply
Find your Buzz Quiz/MBTI type and register online, using use your school email address.
More information
HeadstartED

is a careers-focused online collaboration platform for training young people in collaborative working, helping them gain confidence, skills and connections they'll want at work.
Architecture, urban design and research studio

DSDHA

helped set the Design Principles entries will be judged against. They'll run online Q&A sessions and workshops for the project.