Community Fund Parklets
Applications for phase one of the Community Fund Parklets has closed. Our team is currently shortlisting the applications. Winners will be announced soon.
If you missed the deadline but still want to apply you can send in your application to be waitlisted for phase two. Click here to apply.
Your Streets Your Way Competition 2023
The announcement for the Your Streets Your Way winners will be coming soon. Watch this space for updates!
Support for Lambeth school employees
Are you working in a Lambeth school? You are eligible for support to have a more a more active journey to school!
Lambeth Council is working towards a cleaner and greener borough by offering a range of measures to encourage people working for the school to travel in active ways. Transport has a huge impact on the health and quality of life for everyone and offers some great opportunities.
Contact us at ActiveTravel@lambeth.gov.uk to receive a guide to find out information and discounts to switch to healthier and more sustainable forms of transport.
Bike Week 100 5th – 11th June 2023
Bike Week 100 is coming up. Celebrating 100 years of Bike Weeks, this year you can get involved by arranging an event at your workplace or taking part in one of the many challenges arranged by Bike Week 100. Click here for more details.You can also find resources to help make the switch to cycling on the Cycling UK website.
Dr Bike
Dr Bike sessions taking place this month!
Dr Bike sessions are free to attend, and experienced mechanics will check everything on your bike from wheels, brakes, gears and tyre pressure to lights, racks, pedals, saddles and more. Any minor adjustments that can be made will be done there and then free of change.
In the case that something can't be fixed on site the mechanics will let you know exactly what needs doing and a rough guide to what it should cost and will point you in the direction of your local bike shop.
Upcoming Dr Bike Sessions:
• Saturday 6th June – 12:00-15:00 – Norwood Road / York Hill – SE27 9AF
• Wednesday 7th June – 16:00-19:00 – Clapham Common Bandstand – SW4 9DE
• Saturday 10th June – 12:00-15:00 – Clapham Common Bandstand – SW4 9DE
• Wednesday 14th June – 16:00 19:00 Windrush Square – SW2 1JQ
Click here for a full list of events.
Bike Markets
We have partnered with Brixton based upCYCLE to bring you a brand-new type of bike market!
Bring along your outgrown, unwanted bikes to the market and put them to good use and donate them to a great project.
All donated bikes will be serviced by upCYCLE and checked by a qualified mechanic to ensure they are in good working order. The bikes will then be sold at bike markets run by Peddle My Wheels, with 100% of all sales proceeds going back to upCYCLE
• Wednesday 7th June - 10:00-16:00 - Windrush Square
• Saturday 10 June - 12:00-18:00 - Lambeth Country Show
• Sunday 11 June - 12:00-18:00 - Lambeth Country Show
• Sunday 9th July - 10:00-16:00 - Streatham Common (Rookery/Highlighted Road)
Click here for a full list of events.
Try Before You Bike
Try Before You Bike - the flexible bike scheme that will get you cycling.
Simple and affordable, the Try Before You Bike scheme is the flexible bike scheme that will help get you cycling. Just choose your new bike and accessories using the helpful online tools, the bike gets delivered straight to your door!
For more information visit Peddle My Wheels, who run the programme on behalf of Lambeth Council.
Electric Vehicle Charging
In the coming months you'll start seeing bright green wraparounds around many Lambeth lamp columns. This shows that a street based Electric Vehicle Charge Point (EVCP) is situated in the lamp column.
Lambeth now has over 260 residential lamp column based EVCPs, ensuring residents have access to a convenient Charge Point each with their own dedicated charging bay. Look out for new charging points in the coming months.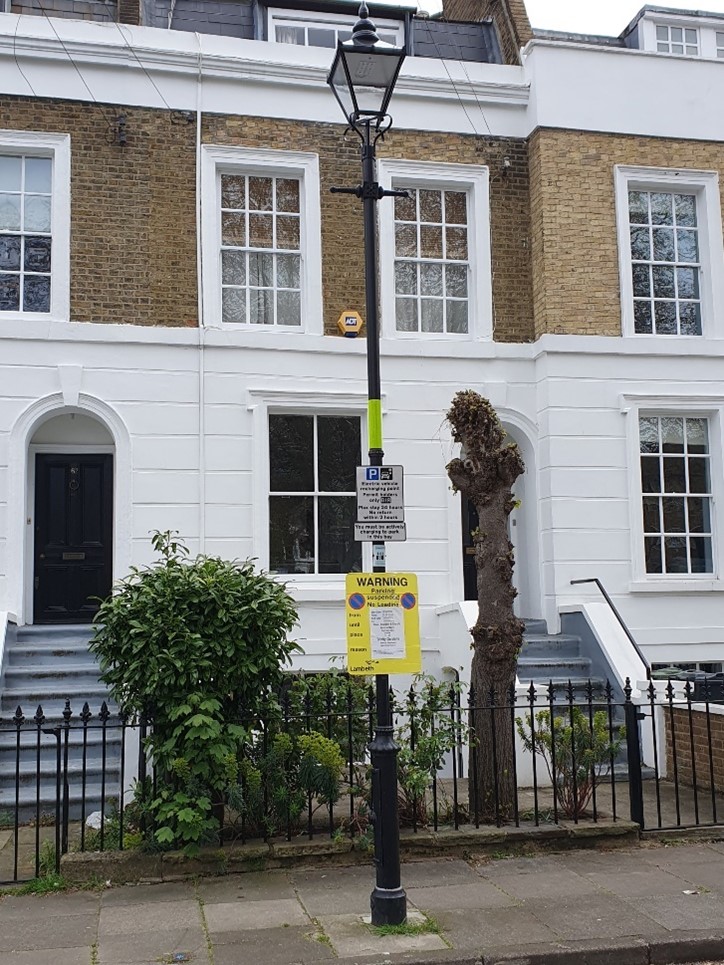 EVCP Lamp Column Wrap
ULEZ Scrappage Scheme and Grants
The ULEZ is expanding London wide and a £110m scrappage scheme for older vehicles will support low-income and disabled Londoners, charities, small businesses. Click here for more details.
If you are not eligible for the scrappage scheme you can still benefit from special deals on car/bike/scooter rental and other support. Click here for more details.