The Big Shift Lambeth
Looking for ways to get some exercise or brighten up your neighbourhood this summer? The Big Shift can help you!
Looking to get back into cycling? We have opportunities below to help you in your cycling journey, whatever stage you're at. Think your street could use a little more greenery? Why not apply for a parklet!
The #LambethBigShift aims to help communities across Lambeth make the most of the of the new greener, healthier infrastructure being put in place. Find out more about our projects below or visit our website.Check back here for regular updates about current and upcoming projects. 
Bike the Borough
On the 18th of July six Lambeth primary schools took part in the Bike the Borough event. The children took to the streets as part of a mass bike ride between Clapham Common and Brockwell Park.
The inaugural Bike the Borough event saw more than 80 school children showcase cycling skills while being supported by school staff, cycling police officers and instructors from Cycle Confident.
The Bike the Borough event was organised through Lambeth Council's Big Shift programme to encourage people to consider more sustainable and active ways to move around their local areas.
The event was a great success with everyone involved having a great time. We hope to make it even bigger and better next year.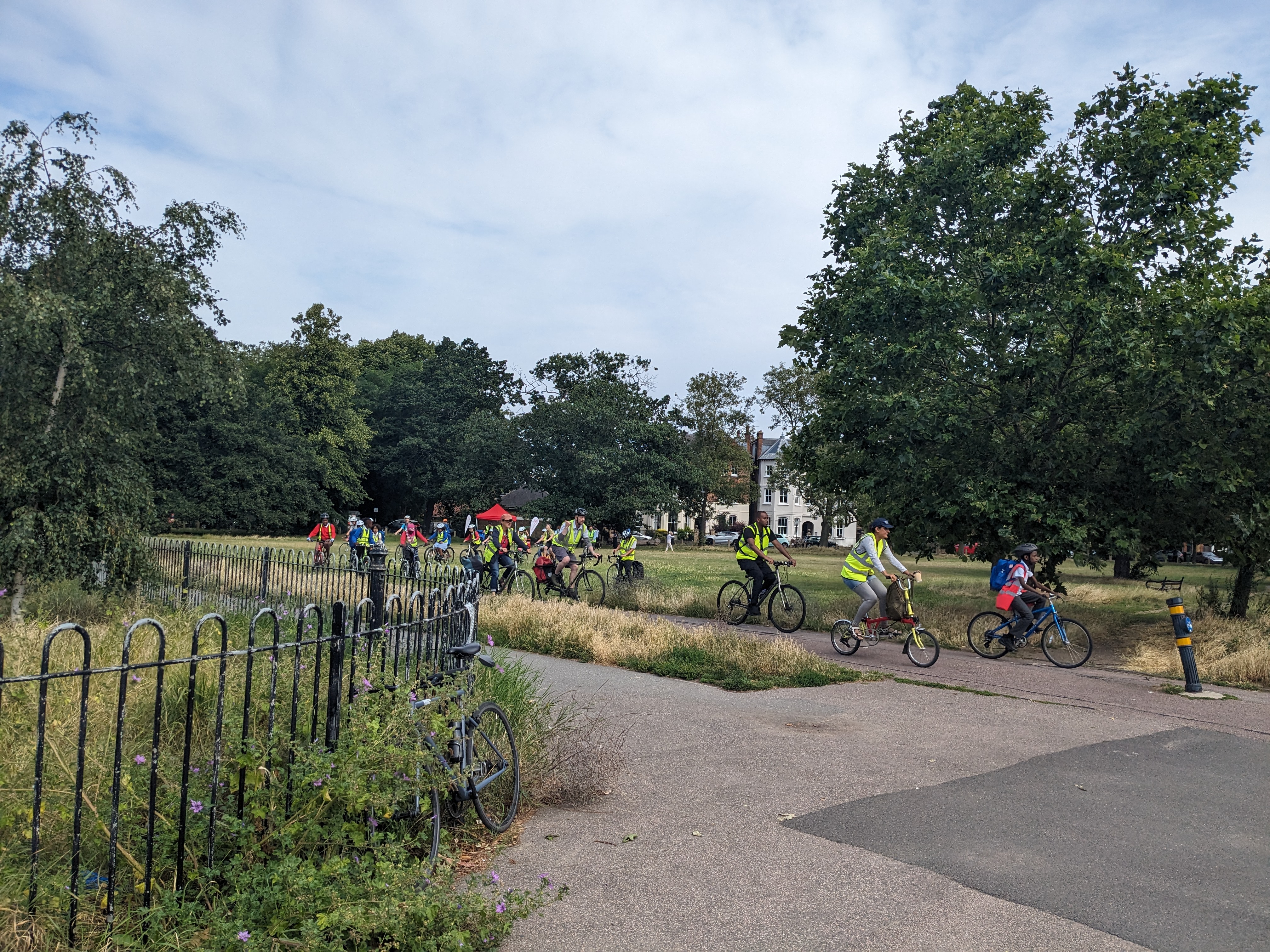 Community Influencers
We are looking for 30 new Lambeth Community Influencers.
Have you thought about cycling but don't know where to start? Would you like to bike to work but aren't confident on the roads? Becoming a Community Influencer is a great place to start!
Peddle My Wheels and Lambeth's Big Shift have partnered for a second year of the Community Influencer programme. Successful applicants will receive a free cycle and cycle accessories as well as being supported with training, maintenance, and insurance from Peddle My Wheels.
Influencers will join our media campaign and help promote cycling around Lambeth. We're looking for people to help encourage others to cycle in their communities by posting to social media, coming to active travel events and many more exciting opportunities.
Click here to apply for a spot in the September 2023 cohort.
Your Streets Your Way
The Your Streets Your Way 2023 winners have been announced!
Congratulations to the winners, runner ups and judges' choices! Over 70 wonderful submissions were received from people aged 6-74. The winning designs are available to view on the Your Streets Your Way website.
Parklets
Applications for a Community Fund Parklets are now open.
A parklet is an old parking space that has been transformed into a space for a community to rest and socialise, while also bringing some much-needed greenery to residential streets. Parklets can also provide a space to lock up bikes or even sensory play opportunities for children.
Applying to become a parklet keeper means that you will have the chance to design a parklet for your road. Parklet keepers are responsible for maintaining and caring for the parklet and ensuring that it is a welcoming place for the whole community to enjoy.
OurBike
Join Lambeth's e-cargo bike hiring scheme today and get 60 minutes free if you're a resident or 180 minutes free for your business. After that it's just 75p per 15 minutes, making it one of London's cheapest bike hiring schemes.
OurBike can be used to transport a wide range of items: parcels, recycling, cakes, even people. The Ridgeback MK5 bike can carry up to 150kg (including the weight of the rider) and comes with a bench that can seat 2 children.
If you have never used an e-cargo bike before you can book a training session for free with a member of the team. For more information about riding an e-cargo bike, check out the OurBike website.
Download the app via the Play Storeor App Store.
Cycle Confident Summer Sessions
Cycle Confident are providing cycle training sessions this summer for all ages and levels of ability.
Click here for more information.
Try Before You Bike
Try Before You Bike is designed to encourage beginner, less experienced or out of practice cyclists to give it a go.
Try Before You Bike allows you to pay monthly to try out a range of different bicycles to see if they're right for you.
Freshview
Freshview aims to bring your community together for a day to improve your local area. Freshview is led by residents, it is your chance to make a difference to the environment in your local area.
Types of activities include:
• creating a community garden
• building on-street planters and window boxes
• removing debris from disused land
• cutting back overgrowth from alleyways and footpaths
• brightening up local areas by re-painting front garden walls or street furniture.
Click here for more information.