Traffic analysis for the Railton LTN has been undertaken looking at traffic counts, ANPR compliance, bus journey times and through-traffic analysis. Data has been collected inside LTN areas as well as on the immediate boundary roads that surround an LTN area for 3 assessment stages . This is in line with the monitoring strategy .

There are 17 traffic count sites for the Railton LTN, 10 sites within the Railton LTN and 7 sites on boundary roads.
Counts were conducted for Stage 1 in September 2020 and Stage 2 in April 2021.
The change in traffic volumes is based on a pre-pandemic baseline that has been calculated to account for lower traffic levels that have been observed since the pandemic so that only the impact of the LTN is shown
Stage 1 Analysis was published in February 2020
Data for Stage 2 analysis is published below
Data Collection:
Monitoring of the LTNs is being completed by independent transport consultancies as follows;
SYSTRA leading on the monitoring programme and coordinating the independent traffic analysis
MHTC leading on the Automatic Traffic Counts (ATC) data collection
The Floow leading on the telematic data collection and analysis
Project Centre validating the traffic survey data analysis completed by SYSTRA.
Data has also been collected from:
Lambeth Council Enforcement Team data on compliance with the traffic restrictions
Transport for London for bus journey times

Traffic Counts:
The total number of cars, cycles and all motor traffic recorded on streets within the LTN and on boundary roads in April 2021 (for pre- and post-implementation) is provided below. Greater detail is provided within the independent report.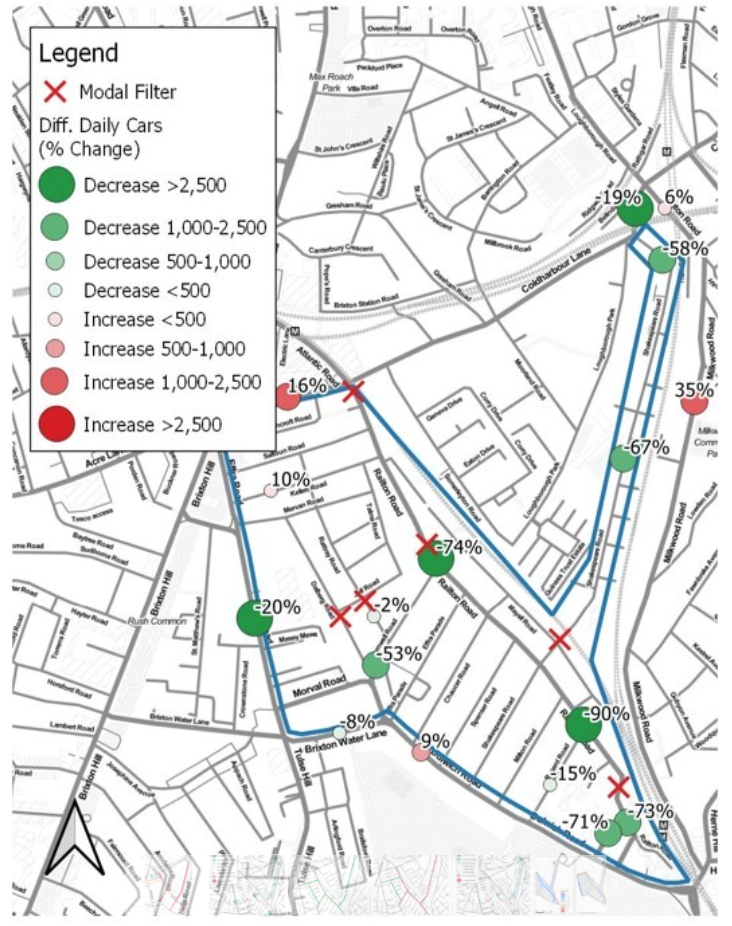 The total number of motor vehicles within the LTN decreased by 63% and when including the boundary roads decreased by 18%.
The largest percentage decreases in car volumes were recorded on Railton Road with a decrease of roughly 75%. Shakespeare Road also saw a significant decrease as did Barnwell Road.
On Rattray Road an introduction of a no entry preventing southbound vehicle access to Barnwell Road in (January 2021) has led to a reduction of car volumes to 2% lower than pre-LTN levels.
Changes on the boundary roads are varied. Effra Road saw a decrease in car volumes as did Coldharbour Lane east by Loughborough Junction. However, car traffic increased on Coldharbour Lane west between Brixton Road and Atlantic Road, Milkwood Road and Dulwich Road.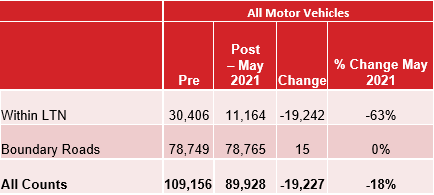 Stage 2 – through-traffic analysis
The below maps are created by analysing GPS and telematics data, and provided by consultant "The Floow". They were used to identify which roads had high proportions of through traffic. Through traffic means that these journeys were using residential roads as part of a longer journey and were not for accessing anywhere within the LTN.
Below are the before and after through traffic analyses for the Railton LTN. Roads where traffic volumes are high and where the majority of that traffic is passing through are shown in red. The proportion of through traffic has been significantly reduced across the LTN area – and indicated by the shift from red to blue.
BEFORE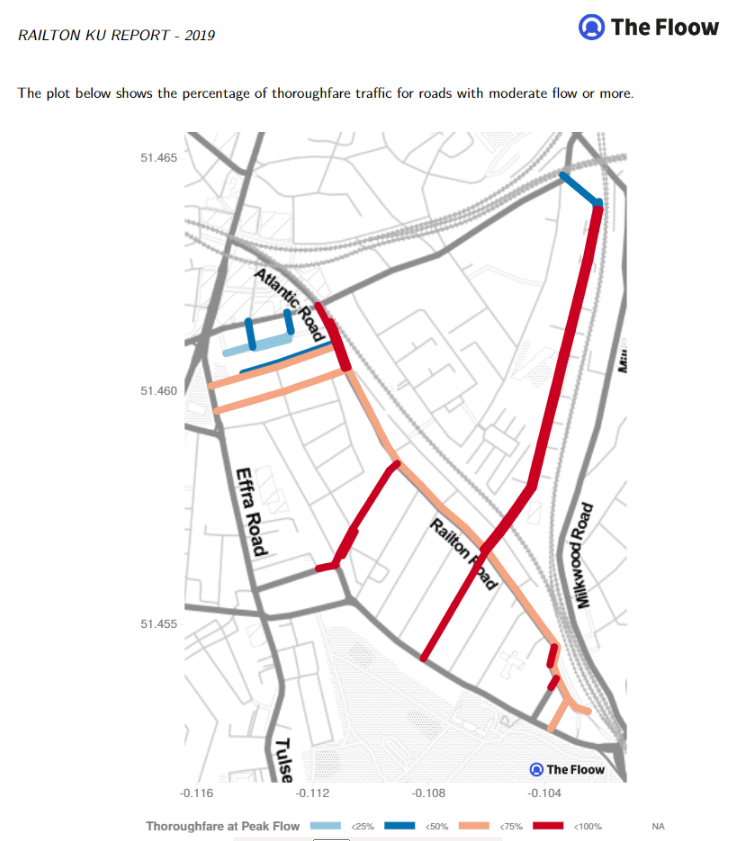 AFTER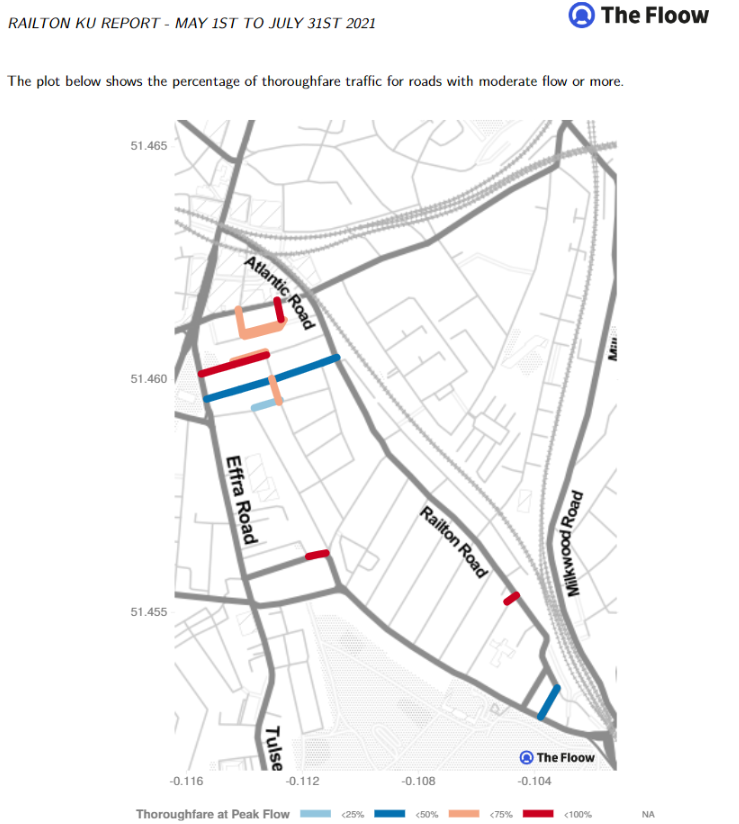 Stage 2 – bus journey times
Journey times have first been summarised by route, by taking the total journey time across stop-to-stop links along the corridor and dividing by the length of these links, to give minutes per kilometre.
There has been negligible impact from the LTNs in most cases with the average bus journey times returning to approximately baseline levels or with a marginal improvement in journey times in some cases.
Stage 2 – ANPR compliance
Very few people who live within the LTN have been issued a penalty charge notice. The graph below shows where people, who have driven through the modal filters, have registered their vehicle (which is typically their home address). The vast majority of people driving through the filters are non-local traffic, from outside Lambeth.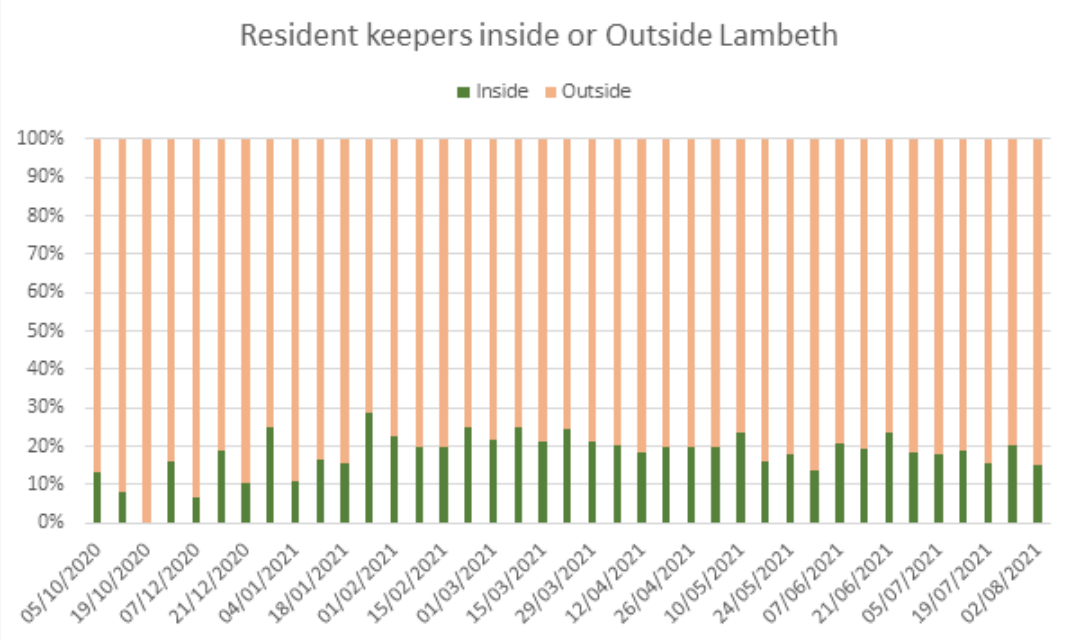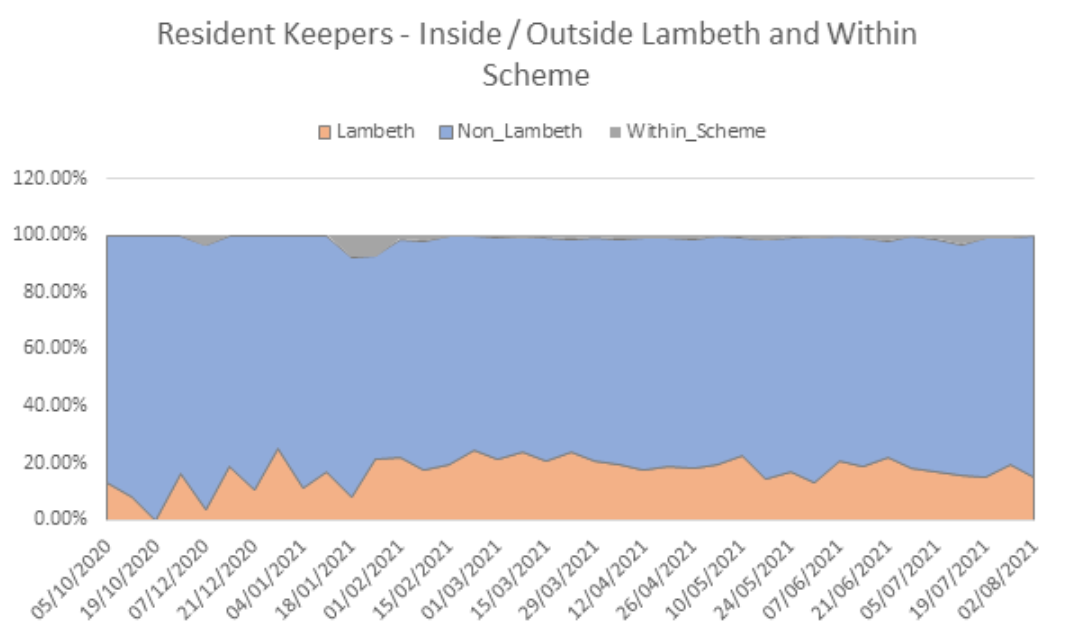 Since the Stage 1 monitoring report was published we have received 104 traffic related emails.
Benefits noted:
The LTN reduces traffic speeds and volumes (including HGVs) mentioning a noticeable reduction in volume of traffic, and particularly in fast, unsafe driving.
The LTN had improved bus flows.
Concerns noted:
Increase in vehicle traffic within and around the LTN. Concerns were highlighted regarding increased traffic and on Milkwood Road, Dulwich Road, Coldharbour Lane, Brixton Water Lane, Effra Road, Brixton Hill, Brixton Road, Half Moon Lane, Croxted Road, Norwood Road and Mervan Road. Particular pinch points highlighted were the Shakespeare Road and Coldharbour Lane junction, St Matthew's Roundabout and Dulwich Road and Herne Hill intersection.
Increase of HGVs on Milkwood Road and on Shakespeare Road due to the increased number of extra Norris skip trucks passing disadvantaged households.
The volume of traffic was exacerbated by road works being carried out in the area. The locations mentioned in correspondence in relation to traffic volume being exacerbated by road works and road closures where Atlantic Road, Coldharbour Lane, Gresham Road, Herne Hill railway bridge works and Shakespeare Road.

Boundary road bus/walking/cycling improvements
Lambeth are currently working on design and options in partnership with TfL to improve conditions on Effra Road, Coldharbour Lane, Dulwich Road and Tusle Hill for buses, walking and cycling. Examples include feasibility of introducing controlled crossings on Effra Road, as well as permitting contraflow cycling on Brixton Water Lane.
We will be providing updates via newsletter updates and our other communication channel as and when we have them.