Safety is a key priority in creating a street environment that is welcoming to all. As well as reducing the number and speed of collisions on our roads, we want to prioritize the creation of a street environment that feels safe at any time of the day or night.

Road Danger Monitoring Methodology:
Academic studies looking at the impact of LTNs on road safety suggest that within the LTN there is a significant reduction in road injuries, with no identifiable changes in incident numbers on boundary roads.
In a study by Laverty, Aldred and Goodman (January, 2021) police data from 2012-2019, indicated a three-fold decline in the number of injuries inside low traffic neighbourhoods, with no evidence that injury numbers changed on boundary roads.
To understand how Railton LTN impacted road safety we analysed:
Transport for London's collision statistics data
Systra Speeds at ATC Counts within the LTN

Collision Data:
To investigate the impact of road danger as a result of the LTNs we compared collision data from August 2020 to March 2021 with data covering the same date period in 2019 to 2021.
We investigated the impact of LTNs on collision data but found the sample size was too small to draw any significance. There are many factors that could affect this, such as reduced use of the carriageway by some road users, collision reduction and other road safety measures taking place in the borough, and a change in the way people use the carriageway.
Speed Data: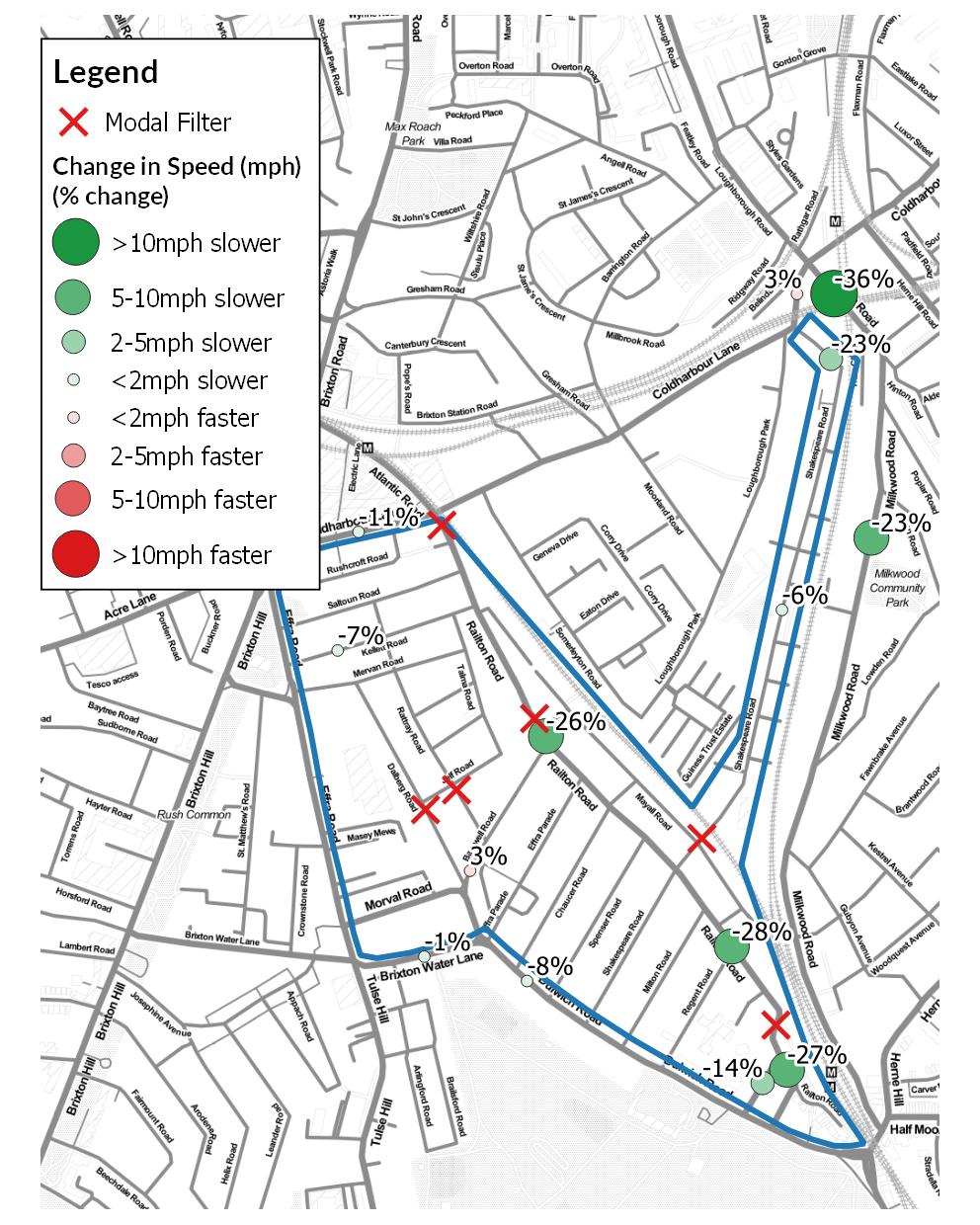 Since the Stage 1 monitoring report was published we have received 58 Community Safety & Vandalism related emails.
Concerns noted:
Vulnerability at night
Anti-social behaviour
Anti-social driving (including aggressive driving and mopeds).
Quieter streets feel more unsafe
Speeding
Non-Compliance including issues such as vehicles with covered license plates.
Camera vandalism
Sign vandalism
Camera enforcement

Safety Response:
Feedback gathered through the LTN trial and commissioned street audits are helping to identify specific locations where safety remains a concern and improvements the Council can make.
Lambeth Made Community Forums:
Lambeth Made Community meetings and websites allow residents and community groups to work with organizations that provide local services, like the police and the council.
The aim is to build community resilience, improve community safety, and reduce violence.
Find out more here .
Vandalism Response:
Vandalism has been a persistent issue throughout the trial of all LTNs across Lambeth. In response, a series of measures were put in place;
Extra CCTV
More council patrols
Extra police visits
Improved response time to replace and repair damaged equipment
The council will also continue to seek to prosecute those committing vandalism and have already arrested and charged two people in connection with the vandalism.